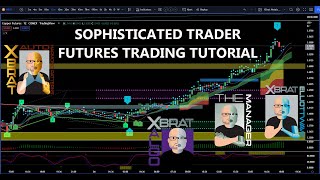 In this futures trading tutorial, Paul looks at how sophisticated futures traders can use different trading strategies to ensure continual trading opportunities on the same instrument.
Firstly Paul talks through a Harmonic Pattern Setup, which is then confirmed with 5* and 6* Buy signals from a totally different trading indicator, the xBratAlgo. Then a simple entry strategy is employed.
A simple and repeatable trade management is then put into action. And finally a pull back against the main trend is spotted and the Elliott Wave Strategy is used to measure the wave 4 performance, ready for a potential 5th Wave trade.
This was all possible using 4 of the xBrat Trading Indicators on the TradingView Platform:
xBrat Auto Harmonics Here
xBratAlgo HERE
xBrat Manager HERE
xBrat ElliottWave HERE
Each of these Trading Indicators are available on many different trading platforms HERE