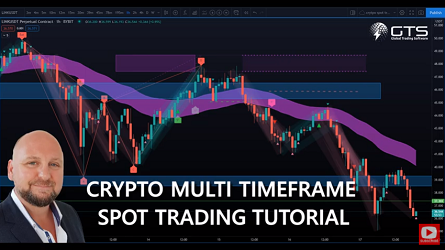 Crypto Trading Tutorial – Multi Time Frame Spot Trading strategy using LINKUSD in this example. It all starts on the 1 Hour time frame with a Harmonic Pattern completing in the auto completion zone, setting up for a Short Spot Trading opportunity.
Then I discus various crypto trading opportunities on multiple time frames. Including signals, entry and trade management strategies. This video highlights a complex strategy, made simpler by using a combination of trading indicators. Achievable for all levels of crypto traders.
Paul used the Crypto Trading Bundles of trading indicators for the TradingView Platform in this video. Learn More HERE
For all your trading software needs visit www.globaltradingsoftware.com If you liked this video and want to view more trading tuition and trading videos, please subscribe to our channel.