The EMA Cloud trading chart add-on for NinjaTrader
The EMA Cloud trading chart add-on For The NinjaTrader Platform

The EMA Cloud trading chart add-on was developed to help traders identify entry points and trailing stop positions when trading their main Strategy. 
EMA Cloud
The Cloud is fully adjustable to any EMA length. So whether your day trading with a 21 EMA or Swing Trading with an 89 EMA, traders can adjust the inputs to suit. Traders can even adjust colours so that they can load up more than one EMA Cloud on their chart.
Please view the chart images on the left to help visualize how simple it is to use the EMA cloud to confirm entries and to manage trades.
Instruments:
Stocks 

Forex 

Futures 

Commodities  

CryptoCurrencies
Whether Swing Trading, Intra-day or Day Trading, our adjustable EMA Cloud is powerful for entries and trade management on any timeframe!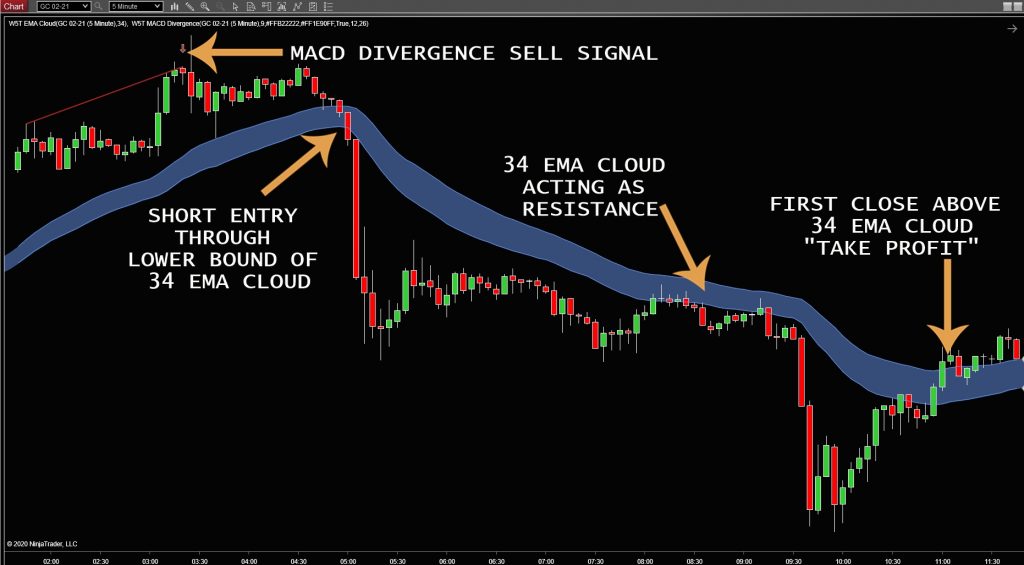 What do you get
The EMA Cloud trading chart add-on For The NinjaTrader Platform
The EMA Cloud trading chart add-on for NinjaTrader
Generally, traders use Exponential Moving Averages (EMAs) with other indicators/software to determine the market's trend. We also use the EMAs to gauge the validity of our suspicion when trading fast-moving markets. Some traders even use them to determine the market's BIAS.
But with The EMA Cloud trading chart add-on for NinjaTrader, we can do more than that. With this customized EMA indicator, we can spot all the entry points and trailing stops.
What Is The EMA Cloud trading chart add-on for NinjaTrader?
The EMA Cloud trading chart add-on for NinjaTrader helps traders spot trailing stop positions and entry points.
Fortunately, you can easily adjust the Cloud to your favorite EMA length and still get great results. Therefore, whether you're swing trading using an 89 EMA or day trading with 21 EMA, you can adjust it to fit your strategy.
If you want to use more than 1 EMA, you can adjust its color to help with visualization. The EMA Cloud trading chart add-on for NinjaTrader can help you manage trades when dealing with these financial instruments:
Cryptocurrencies
Futures
Stocks
Forex
Commodities
How Does The EMA Cloud trading chart add-on for NinjaTrader Work?
Generally, this tool functions as a bluish cloud on your chart, with most traders preferring 34 EMA. 34 EMA is a more conservative EMA for this cloud trading indicator. When the market is neutral, most of the candlesticks form inside or near the cloud, which serves as the resistance.
But when the market's sentiment changes to bearish, then it will start dropping outside the cloud. So you can wait for the second candle, which serves as a confirmation, and enter the market. Luckily, our system will show you the entry point, which is usually pointed with a yellow arrow.
If it's a bearish market, the price will drop once it reaches the resistance and start ranging or trending upwards. Unlike most systems, our indicator will even show you when to exit a position and take a profit. All you have to do is watch out for when the candlesticks get back into the cloud.
Remember, the EMA cloud is the resistance, so when looking for an entry, you should look at how it holds. The yellow arrow indicating an entry point shows after the price breaks through the resistance. On top of that, the take-profit position is near the cloud or as soon as the price returns back to the resistance.
Specification:
The EMA Cloud trading chart add-on for NinjaTrader
| | |
| --- | --- |
| Platform | "NinjaTrader" |
| Indicator | "The EMA Cloud trading chart add-on For The NinjaTrader Platform" |
| License | Lifetime |
The EMA Cloud trading chart add-on for NinjaTrader