The EMA Cloud trading chart add-on for TradingView
The EMA Cloud trading chart add-on For The TradingView Platform

The EMA Cloud trading chart add-on was developed to help traders identify entry points and trailing stop positions when trading their main Strategy.  The Cloud is fully adjustable to any EMA length. So whether your day trading with a 21 EMA or Swing Trading with an 89 EMA, traders can adjust the inputs to suit. Traders can even adjust colours so that they can load up more than one EMA Cloud on their chart.
Please view the chart images on the left to help visualize how simple it is to use the EMA cloud to confirm entries and to manage trades.
Instruments:
Stocks 

Forex

Futures 

Commodities  

CryptoCurrencies
Whether Swing Trading, Intra-day or Day Trading, our adjustable EMA Cloud is powerful for entries and trade management on any timeframe!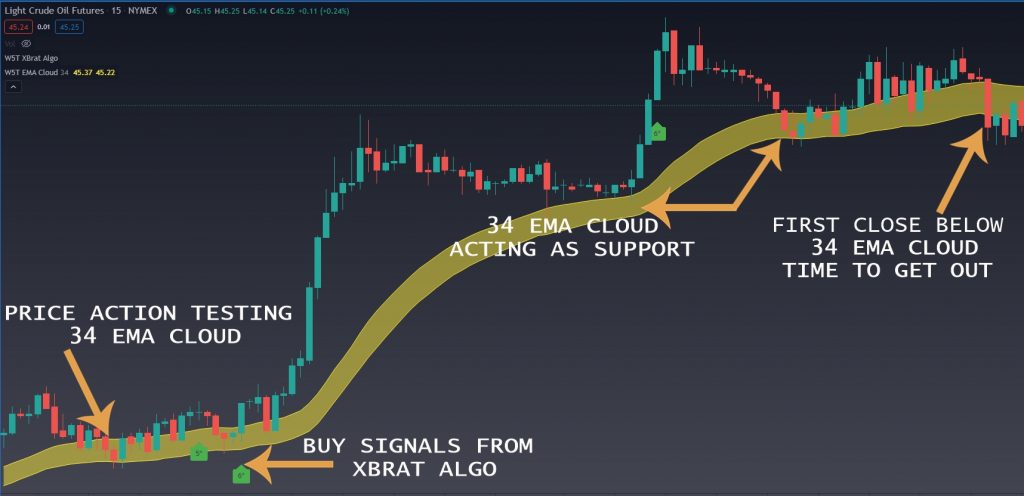 What do you get
The EMA Cloud Trading Chart Add-On for TradingView
Level up your trades with The EMA Cloud Trading Chart Add-On for TradingView. This tool makes the identification of entry and trailing stop positions a breeze. Even if you're a newbie, trading can be a lot easier when you use this add-on. And to make things even better, you'll get lifetime access.
Have you ever felt that trading is a guessing game? Well, it shouldn't be, but most people are often clueless about what to do. This is when The EMA Cloud Trading Chart Add-On for TradingView can be a valuable tool. It is designed not just for novice traders but even for those who have extensive experience.
About the EMA Cloud
Learning about the EMA Cloud is crucial to maximizing the benefit of this add-on. In a nutshell, it's a technical analysis tool for determining trend directions and reversals. To do so, the chart will need two EMAs, and the area between them is shaded.
What It Can Do
Using this tool will help you identify entry positions. This means you will easily know when to enter the market to catch a trend. Otherwise, you'll be too late, which means that you'll miss the opportunity to profit from a trade.
More so, this add-on is also for the identification of trailing stops. The latter is an order type that seeks to limit losses or lock profits. It tracks orders only in one direction.
The Benefits of The EMA Cloud Trading Chart Add-On for TradingView
One of the best reasons to choose this trading tool is because it is user-friendly. You'll immediately know what to do. There's no need to manually crunch numbers to identify the market conditions.
In addition, this add-on is also fully adjustable. You have complete control of the data it will analyze. Users can feed data of various ranges, depending on the EMA most suitable for your specific situation. Even the colors are adjustable, allowing you to view multiple EMAs in one chart.
Another benefit worth noting is its flexibility. While most people will use it for trading stocks, it's also for other instruments. You can use it for trading cryptocurrencies, commodities, futures, and forex.
Buy Once, Enjoy Lifetime Access
The price of The EMA Cloud Trading Chart Add-On for TradingView is definitely worth it. Pay once and never worry about subscription renewal. Every purchase comes with lifetime access.
Specification:
The EMA Cloud trading chart add-on for TradingView
| | |
| --- | --- |
| Platform | "TradingView" |
| Indicator | "The EMA Cloud trading chart add-on For The TradingView Platform" |
| License | Lifetime |
The EMA Cloud trading chart add-on for TradingView